Wonderful underwater world is waiting for you. 😉
[ultimate_video u_video_url="https://www.youtube.com/watch?v=0g6aljIbLa4&list=PLL0_C7nNGdGmFFjloCdn68keAd4roo77J" yt_autoplay="" yt_sugg_video="" yt_mute_control="" yt_modest_branding="" yt_privacy_mode="" play_size="75″ enable_sub_bar="" css_video_design=".vc_custom_1583217996325{margin-right: 100px !important;margin-left: 100px !important;}"]
Below is the "Flow Chart" of PADI courses.
Tell us what you know about SCUBA Diving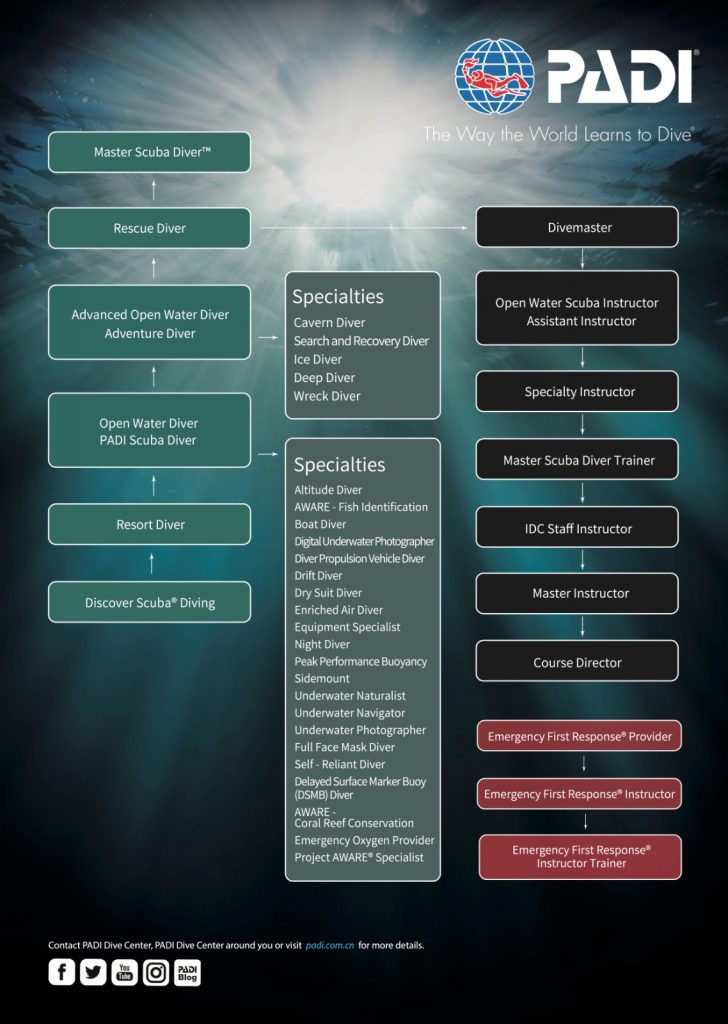 PADI: Professional Association of Diving Instructors®
The Way the World Learns to Dive®
PADI is the world's leading scuba diver training organization.
With more than 6200 PADI Dive Centers and Resorts, and more than 136,000 individual PADI Professionals who have issued more than 23 million certifications around the world, you'll find PADI diver courses and scuba diving services nearly everywhere.
The PADI System of diver education is based on progressive training that introduces skills, safety-related information and local environmental knowledge to student divers in stages. PADI courses are student-centered and provide maximum practice and realistic application.
PADI Professionals make underwater exploration and scuba diving adventures possible while maintaining the highest standards for diver training, safety and customer service. PADI's "Four E's Philosophy" is that the dive lifestyle requires four elements:
Education: Beyond simply learning to scuba dive, you expand your capabilities as a diver through continued education. PADI's full range of diver courses introduces you to new underwater activities and can even help you make a career move to become a PADI Professional.
Experience: PADI dive shops offer a variety of experiences from local dive tours to exotic dive travel. Diving is a social activity and, by affiliating with a PADI Dive Center or Resort, you can explore dive sites nearby or visit vacation destinations around the world with others who share your interests. Joining the PADI Diving Society® and logging in to ScubaEarth® also provides opportunities to interact with other divers.
Equipment: Scuba gear makes diving possible. The best place to learn about all the fun gadgets and new scuba equipment available to you is at your local PADI Dive Center or Resort.
Environmental Conservation: A healthy underwater environment is essential to good diving and divers are great advocates for protecting our water resources.  Throughout PADI courses, divers learn the importance of protecting fragile aquatic ecosystems and are encouraged to become involved in local and global conservation efforts. For more than two decades, PADI has partnered with Project AWARE® – a global nonprofit organization dedicated to protecting our ocean planet – one dive at a time.
PADI Worldwide is a privately held corporation that is international in scope with service offices and distribution centers in Australia, Brazil, Canada, Japan, Russia, the United Kingdom and the United States. PADI Worldwide's corporate headquarters is located in California, United States. PADI Regional Headquarters support the efforts of individual professional members and PADI Dive Centers and Resorts in more than 183 countries and territories. To serve the needs of divers worldwide, translations of PADI materials are available in at least 26 languages.
PADI Members influence decisions by sharing their opinions through advisory boards, one-on-one contact, group meetings, member seminars and responding to surveys sent out by PADI Worldwide or PADI Offices. However, the business activities of PADI Members are independent, and not owned, operated or controlled by PADI Worldwide or PADI Offices. PADI Dive Centers, Resorts and individual professional members agree to follow established standards for PADI diver-training programs, but are responsible for the day-to-day conduct of PADI programs and supervision of divers by themselves and their staff.
Why Diving Express?
Diving Express is a PADI Career Development Center (CDC).  This classification is awarded to PADI Five Star Instructor Development Centers that dedicate their businesses to professional development for dive instructors. These dive shops meet the highest requirements for training PADI Professionals and offer career-oriented programs to prepare scuba diving professionals for employment in the dive industry, as well as offer job placement assistance for program graduates.
We have our own training facility such as indoor training pool, diving boats, and classrooms.  Our dive center includes travel consultant team, equipment and underwater photography sales team, dive training team.  (Our dive training team has 3 Course Directors, several Master Instructors and IDC Staff Instructors, professional Divemasters.)  We are a one-stop dive center and we can assist you in anyway which you can think of for scuba diving.