Who should take this course?
Having scuba tanks on your back isn't a requirement for exploring the underwater world. Many scuba divers have discovered the joy of mounting cylinders on their sides. Sidemount diving gives you flexibility and streamlining options. Plus, you don't have to walk with heavy cylinders on your back – just enter the water, clip them on and go. Sound interesting? Sign up for the PADI Sidemount Diver Specialty course.
If you're a PADI Open Water Diver who is at least 15 years old, you can enroll in a PADI Sidemount Diver course.
What will you learn?
Along with learning about the many benefits of diving with a sidemount configuration, during one confined water and three open water scuba dives you'll learn how to:
Properly assemble and configure sidemount scuba diving equipment.
Trim your weight system and sidemount gear so you're perfectly balanced in the water.
Manage gas by switching second stages as planned, if wearing two cylinders.
Respond correctly to potential problems when sidemount diving.
Course Content:
Lecture: 1 session + 1 practical application.  About 3 hours.
Confined water training: 1 dive
Open water training: 3 dives
Included:
PADI Sidemount Diver C-Card (upon successful completion)
Sidemount equipment rental during the course
Sidemount Diver manual
Course Schedule:
Please contact us for details at: 9137 0355 or ask@divingexpress.com
Entry requirements:
Age 15 or above, able to swim and in good health.
PADI Open Water Diver certification (or equivalent)
Physically fit for scuba diving
Course fee: HK$3,900.00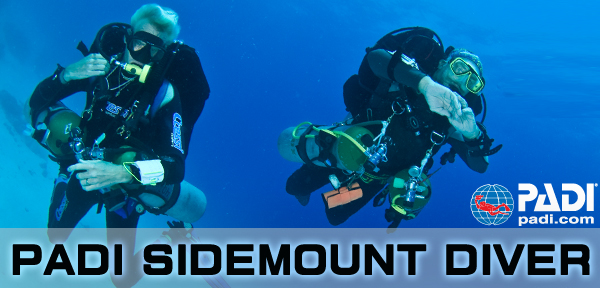 Why Diving Express?
Diving Express is a PADI Career Development Center (CDC).  This classification is awarded to PADI Five Star Instructor Development Centers that dedicate their businesses to professional development for dive instructors. These dive shops meet the highest requirements for training PADI Professionals and offer career-oriented programs to prepare scuba diving professionals for employment in the dive industry, as well as offer job placement assistance for program graduates.
We have our own training facility such as indoor training pool, diving boats, and classrooms.  Our dive center includes travel consultant team, equipment and underwater photography sales team, dive training team.  (Our dive training team has 3 Course Directors, several Master Instructors and IDC Staff Instructors, professional Divemasters.)  We are a one-stop dive center and we can assist you in anyway which you can think of for scuba diving.