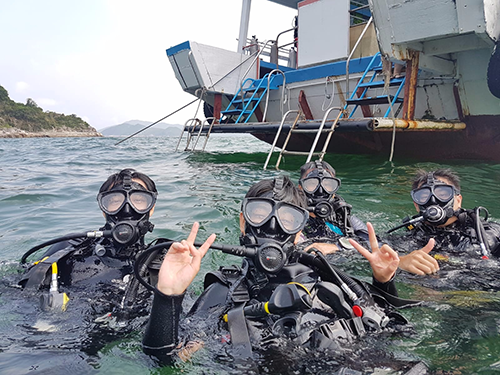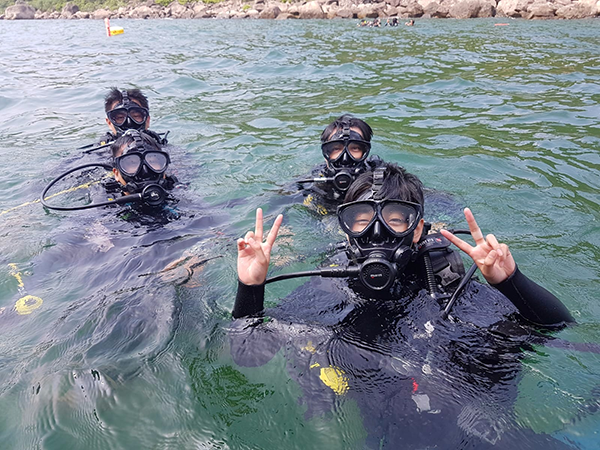 Diving with a full face mask allows you to breathe from your nose and mouth, and provides added comfort in colder water. The mask can also be fitted with communication gear, A full face mask protects your eyes and nose from contaminants in the water, provide comfort in cold water, and allows for communication.
Because full face masks allow you to breathe from your nose, they are also beneficial for those who have difficulty using standard scuba masks. Diving with a full face mask offers a different experience and that alone may be reason to give it a try.   If you're interested public safety diving, scientific diving, or venturing into extremely cold- water, then learning to dive with a full face mask is definitely for you.
What you learn learn.
There are several different types of full face masks, so you begin learning about varying mask features and components.  This will enable you to make the most informed choice when buying your own full face mask.
Next, you'll learn techniques for preparing and diving with a full face mask as well as proper maintenance.
Including;
* Properly prepare and check your mask for the dive .
*  Make adjustments underwater and clear water out of the mask.
* Respond to simulated out-of-air emergency situations.
Course prerequisites.
* PADI Open water Diver (or equivalent).
* Min. 12 years old.
Course content.
Academic:  One  session. About 3 hrs.
Practical:  1 dive in Confined Water.
                 2 dives in Open Water.
Course fee:
HKD2,500.00
Course fee includes:
* Student materials.
* Training.
* All equipment required for training.
* "PADI Full Face Mask Diver" certification upon successful completion of the course.
For further details:
Please call 2724 1322 or email us at  ask@dvingexpress.com
Why Diving Express?
Diving Express is a PADI Career Development Center (CDC).  This classification is awarded to PADI Five Star Instructor Development Centers that dedicate their businesses to professional development for dive instructors. These dive shops meet the highest requirements for training PADI Professionals and offer career-oriented programs to prepare scuba diving professionals for employment in the dive industry, as well as offer job placement assistance for program graduates.
We have our own training facility such as indoor training pool, diving boats, and classrooms.  Our dive center includes travel consultant team, equipment and underwater photography sales team, dive training team.  (Our dive training team has 3 Course Directors, several Master Instructors and IDC Staff Instructors, professional Divemasters.)  We are a one-stop dive center and we can assist you in anyway which you can think of for scuba diving.